Retrofit / Refurbishment-Modernization
After years of continuous operation, energy and data transmission systems will eventually require refurbishment or replacement.
When it no longer makes economic sense to keep an older system operating under current running limiations, an upgrade may be reasonable.
As machine technologies advance to faster operating speeds and higher capacities, the current, as used, energy and data transmission systems may prove inadequate to support the future expectations. This may drive the need for a system upgrade or replacement.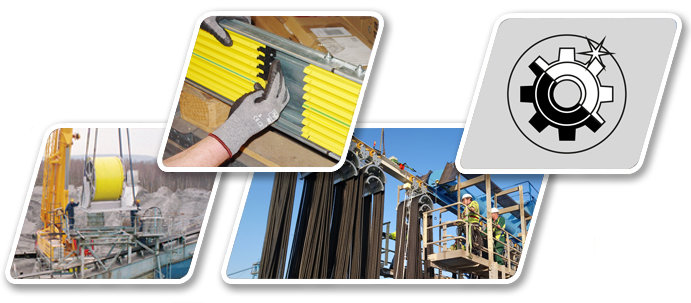 Modernizations to go faster, higher, and further
Machinery has become increasingly automated  and are running faster than ever. In turn, this drives the need for an even more capable energy transmission system and pushes the need for higher data transmission rates.  Either of these advanced requirements could result in the need to replace an existing system. Conductix-Wampfler is at your disposal to select from our wide range of product solutions and determine what customized solution will fill the need.
As data transmission possibilities continue to develop, current solutions such as energy guiding chains can be replaced by a conductor rail system to provide high-quality, real-time data transmission features. The enhanced rails provide significant operational benefits to your application.
Another approach might call for a motorized cable reel to be retrofitted with fiber optic cable to satisfy the data communication needs of tomorrow.
System end-of-life
After decades of continuous use, your old energy and data transmission system could require a complete overhaul.  When the whole system nears the end of its service life, the risk of costly downtime increases and the user should consider a complete system retrofit, or replacement.
How we can help
Conductix-Wampfler offers various packages for system rebuilds, retrofits, and modernizations tailored to your specific application and demand. This service covers a wide range and is adapted to your vision starting with the offer and resulting in the supply of a direct replacement system.  We offer a turnkey service including disassembly and disposal of the old system as well as installation and commissioning of the new system.
To inquire about our retrofit/modernization offering, please refer to our Global Contact Page.